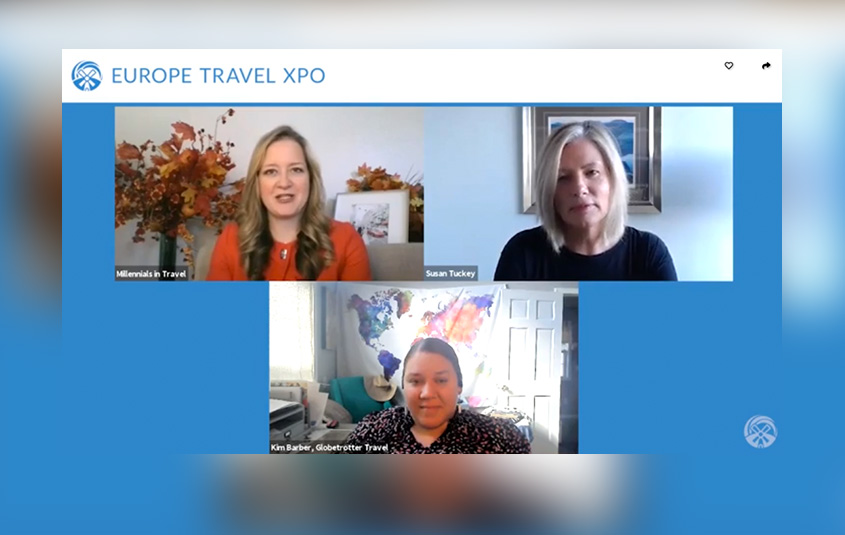 'I'm seeing a lot of interest': Europe Travel Xpo examines booking trends and more
Susan Tuckey, Adventure Travel Advisor at Toronto-based Penguins2PolarBears, part of TTAND, participated in the "Travel Advisor Tips & Trends" panel alongside travel consultant Kim Barber of Globetrotter Travel in Michigan. The discussion was moderated by Elizabeth Pickering, National Director of Industry Relations and Advocacy for Millennials in Travel.
Tuckey said his bookings in Europe have increased – and not for the usual suspects. "I'm seeing a lot of interest, especially in destinations that are a bit more immersive and off the beaten path," Tuckey said. "Canadians are booking for 2022 and 2023, for destinations like Portugal and Spain, Turkey, Italian Lakes and Swiss Mountains, Greece, Nordic Experiences, Iceland and Russia. So not your typical Italy or France or the UK. A little more distant, a little different.
Tuckey says ticking trips off bucket lists is a big factor. "I hear a lot of 'I always wanted to go to …', whether in Russia, Greece or elsewhere."
Many customers also book longer trips to Europe. "They definitely go places they haven't been and they're immersive. They spend 14 to 21 days there. They don't stay in a city. Many of them take the railways from one destination to another and go to all the great historic sites, enjoying cultural experiences, "she said.
When asked who booked what, Tuckey said his younger, millennial customers quickly gained the upper hand. "My first post-COVID client was a 23-year-old on her way to Iceland, she self-driven for 10 days. I'm seeing my younger generation clients book earlier and earlier – this year and early next year. Baby boomers are waiting for the end of 2022 and the beginning of 2023. "
Europe Travel Xpo also presented a round table with tour operators. In attendance were David Green, Vice President of Business, G Adventures; Cory McGillivray, Director, Distribution Marketing, Globus family of brands; and Lora Shapiro, Director, Business Marketing and Education for Tauck. The panel was moderated by Mark Meredith, founder of Rocket Travel Marketing.
Green said G Adventures has organized nearly 1,300 tours in the past year. "We are proud of this number and we are proud of the support we have received from the travel agent community," said Green. "The customer satisfaction figures are out of the ordinary. Forward bookings also look good.
Green added that health and safety protocols have not negatively impacted guest experiences while traveling. Cory McGillivray with Globus agrees. "Part of the benefit of being after two years is that people are used to health and safety protocols," McGillivray said. "And the pent-up demand and desire to go out and travel further reinforces that acceptance."
Lora Shapiro said Tauck guests are happier with visits than they have ever been, judging by customer satisfaction ratings. "The biggest advantage of traveling right now, there are fewer people, fewer people," she said.
Dean Jacobberger, Vice President of XpoPRO Mobile, said: "We couldn't be more pleased with the way Europe Travel Xpo has closed our PRO virtual lounge series for 2021. We are delighted to hear all of the great feedback from travel advisors and exhibitors on the ease of use of our platform and how it has been a valuable way to stay connected and have fun learning along the way.
"It has been a pleasure to introduce new features like the Trivia Center while maintaining popular favorites like Travel Counselor Tips & Trending," he added. "We look forward to announcing our 2022 virtual show dates soon and continuing to provide travel counselors with a platform to stay informed and be inspired, as our industry moves forward in its recovery."
Jacobberger also thanked show sponsor Cymru Wales and grand prize sponsors Tourism Ireland and Royal Irish Tours.
The Europe Travel Xpo will remain on demand for 30 days, and can be found at https://europetravelxpo.com/.