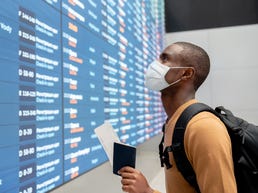 EU considers COVID vaccine certificates to help tourism
BRUSSELS – The European Union is studying a joint vaccine certificate to help travelers get to their vacation destinations and prevent tourism from suffering another catastrophic year due to the coronavirus pandemic.
European Commission President Ursula von der Leyen said certificates of those vaccinated could be combined with COVID-19 tests for those waiting for vaccines to allow as many people as possible to travel during the summer, this which is vital for Mediterranean hot weather destinations like Greece, Italy and Spain.
The issue will likely be discussed at a video meeting of EU leaders next week. Europeans fear that residents will be split into two camps – those with vaccination certificates allowing them to travel and others who remain limited in where they can go.
But von der Leyen said such discrimination is not necessary because "you can still combine either a certificate or a negative COVID test, if you haven't had access to a vaccination so far."
Planning an international trip? :Prepare to show a negative coronavirus test to board your return flight
Vaccination passport:Some international travelers may be required to be vaccinated against COVID-19 before flying
"So there are possibilities to find a fair and equal balance," she said during a visit to Lisbon, the capital of Portugal, on Friday.
Nations heavily dependent on tourism fear that a second consecutive summer vacation season affected by the pandemic will hit their tourism industries even harder than the first.
Portuguese Prime Minister Antonio Costa, who holds the rotating EU presidency and owns some of Europe's most popular Atlantic beaches, said "tourism is particularly important to our economies", hence the need to travel as freely as possible.
"It is essential that when we go into next summer we feel safe and that others feel safe to travel to Portugal and also to Greece," he said.
The Greek government has proposed the vaccine certificate plan. Greece will issue digital vaccination certificates to every person vaccinated against COVID-19.
Greek Prime Minister Kyriakos Mitsotakis said he had already proposed to the EU to adopt such a bloc-wide certificate, and von der Leyen said she welcomed the initiative.
"We have every reason to be in the front line of the countries which are fighting so that transport, the movement of European citizens, is as free as possible," Mitsotakis told lawmakers in his country. "We believe that this vaccination certificate should be given a European character, so that European countries can share this information in the same way, without discrimination."
Vaccinations have started in all 27 EU countries, but it is far from clear what proportion of the population will be vaccinated in time for the summer season.
The desire to travel in the event of a pandemic:100 places we aspire to travel in 2021 and beyond